MAGIC FOR WEDDINGS
You have now chosen the venue of your big day, booked the photographer, the rings, and invited the guests – but how are you going to keep them entertained?
Book a magician for your wedding – you will add extra magic to your special day. You can hire Chris Cowl as your wedding magician throughout the UK. His interactive, close-up table magic will amaze and create a real buzz among your guests and make the day memorable for everyone.
Chris Cowl is a close-up wedding magician based in the North East of England and has been specialising in the performance of magic at weddings and other events for over a decade. His success has been founded on performing strong original magic and unique sleight of hand, ITS MODERN AND MIND BLOWING. He has been performing magic for thousands of guests all over the place…. and he totally loves it…..When are you thinking about using him?
DURING THE PHOTOGRAPHS
When the wedding ceremony has finished you will undoubtedly be the centre of attention with your photographer, so while your guests are stud around Chris will mix and mingle visiting small groups at a time blowing there minds with his magic and humour. During the photo's is definitely the most popular time for a wedding magician.
THE WEDDING BREAKFAST
Table magic during courses is a superb way to keep your guests happy and in full flow. Also people will potentially be sat with strangers, close-up magic is a superb way to get them chatting. Chris works from his pockets so he doesn't even need any table space.
EVENING RECEPTION
This option is also very popular. Mix and mingling during the early evening is great because most people are relaxed and ready for a 'few beers' at this point in the day. Whether people don't want to dance or are sat around soaking up the atmosphere, Chris can get amongst your guests with his Magic and friendly humour. Chris recommends doing his stuff before the disco starts, this way your guests can enjoy what the see and can listen to his 'brilliant' humour.
Chris can tailor his Magic to suit your requirements. Get in touch now if you have any questions.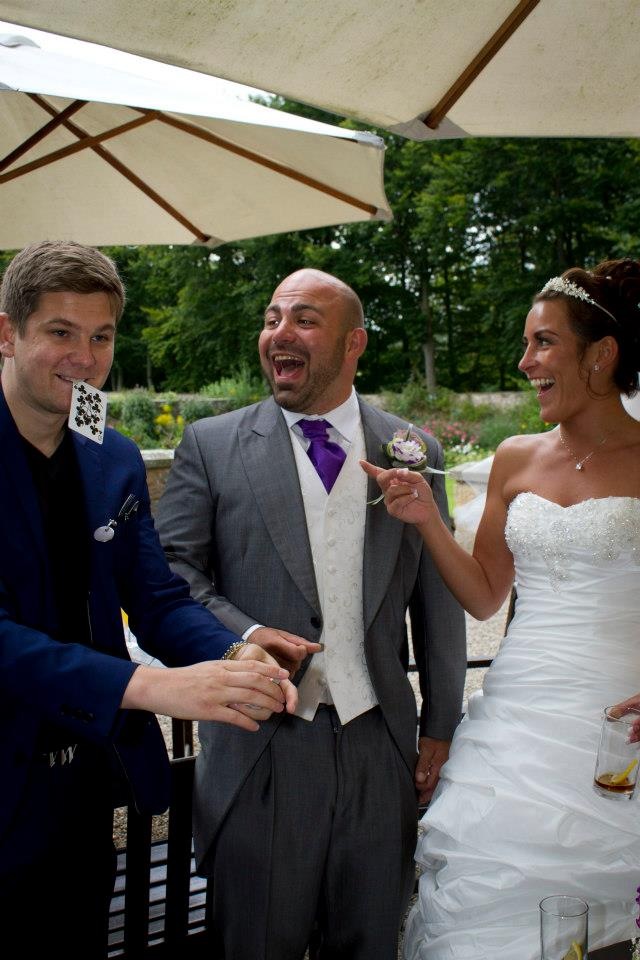 "I totally loved the magic you done for us, Im really glad you have come along and added your wonderful magic to our wedding. Thank You"
Andy & Louise (Wedding Clients)